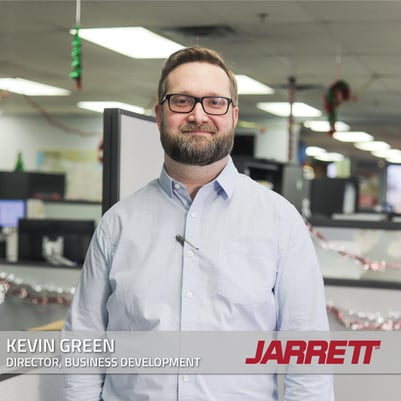 Our employees are the foundation of our award-winning workplace culture and excellent customer service. We are proud to have these people as a part of our Jarrett team.
Next up is Kevin Green, a Director of Business Development here at Jarrett. Read his answers below to find out more about Kevin!
How long have you been at Jarrett?
I joined Jarrett in January of 2018.
What is the best part of working in your department?
We have a lot of fun! There's always a lot of banter between members of the team to keep the mood light and the energy high. I work remotely in Dallas, and everyone is always responsive and fun to speak with on the phone.
If you weren't in (sales, operations, claims, etc.), what job would you have?
I think if I weren't in Sales that Analysis or IT would be interesting… not that I would have any idea what to do.
Favorite memory at Jarrett so far?
I was fortunate enough to be invited to spend a few months at our home office in Orrville as part of my training when I joined Jarrett. I had a great experience working in our Routing Center alongside a few of our great Customer Account Teams. While I was in Ohio I had a birthday in the same month as Bill Perry, one of our Sr. Logistics Managers. I was being trained by his team at the time, and they were kind enough to include me in the birthday celebration as I was away from friends and family in Dallas. When Bill's birthday card got passed to my desk to be signed, I stood up and asked very bluntly "HEY! Where's my card?" Everyone looked at me a little funny and started laughing. That's when I realized they had no intentions of having me sign my own birthday card. Sometimes I'm not the brightest crayon in the box. It was a pretty funny moment.
Who has been a mentor for you here at Jarrett? How have they helped you?
I've had a few mentors at Jarrett. Two of them really stand out in my mind though. The understanding of our industry I gained during my time training on Stacy Peters' Customer Account Team was extremely important to my role today. Stacy was always very accommodating to my never-ending questions. The other person that has helped guide me from day one is Matt Wagner, our VP of Sales & Marketing. Matt has put many hours of development into my career at Jarrett, and I would be a fish out of water without him. Thanks, Matt.
What would you name the autobiography of your life?
The Failed Comedian: He's Funny Sometimes by Kevin Green
What is one skill you wish you had?
Writing music.
If you could learn to do anything, what would it be?
Astrophysics.
What chore do you wish would do itself?
Any yard work. Gross.
What fictional character would you be?
Ace Ventura, because I prefer the reference section.
We are grateful to have Kevin here at Jarrett. If you are interested in being a part of our team, visit our careers page.
For more Employee Spotlights, check out our blog!