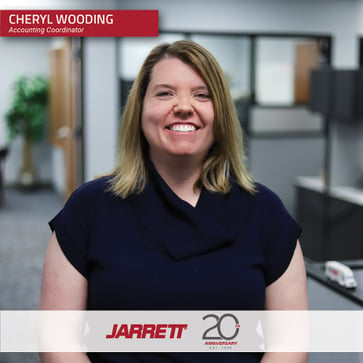 We are celebrating our 20th anniversary by highlighting our 20 most tenured employees!
Next up is Cheryl Wooding, Accounting Coordinator here at Jarrett. Read her answers below to find out more about Cheryl and her experience at Jarrett throughout the years!
Describe your job in 20 words or less?
I am in Accounting and have the opportunity to work with our different companies and their departments.
Favorite memory at Jarrett so far?
Ashley Hoffman looking for the phone headset that was still attached to her face was pretty memorable.
What is your favorite quote?
My adult answer is "I may not be there yet, but I'm closer than I was yesterday". My childhood quote was "Thunder… thunder……THUNDERCATS! HOOOOOOOO!".
What is your biggest goal right now?
Professionally- Hoping to expand my tasks and projects, getting to learn more about the other Jarrett Companies. Personally, I'd like to do more traveling.
Why did you decide to join and stay with Jarrett?
I love the Orrville area and came from a freight/shipping background, so it was a good fit.
Which employee perk does Jarrett offer that you enjoy the most? Why?
Paid Vacation Time. I love to travel and have friends and family all over the country that I enjoy visiting. Having "locals" to explore with definitely helps if you're traveling alone… not to mention the free lodging.
Who has been a mentor for you here at Jarrett? How have they helped you?
Christina Sweigert. She was hired shortly after me and is now a Manager of her own team. She leads by example: great work ethic, admirable managerial skills, approachable, knowledgeable.
What advice would you give to recent new hires?
You can never ask too many questions; that being said, take notes 😊
What is the biggest lesson you've learned in your time at Jarrett?
You can make some great friends in some unsuspecting places…
How have you seen the organization and/or industry change over the course of time that you've been at Jarrett?
Jarrett was beginning to update the upstairs loft at the 1347 building into office spaces when I started here; they've now filled and outgrown that loft space, and built another building across the street. Constantly growing…
How does your team provide value to Jarrett clients?
By supporting our Operations folks as efficiently as we can. A supervisor of mine at the time made the statement "we're all in Customer Service". That stuck with me.
How has technology evolved in your time at Jarrett?
Manually processing thousands of bills a week to the EDI 210 implementation taking a good chunk of that by processing automatically has been pretty great.
How does Jarrett and their employees serve the community?
Programs such as charity donations matching dollar for dollar, volunteering at the local humane society (PackShip USA) or Salvation Army, and contributing to the Make A Wish program every Holiday Season.
How would you define Jarrett's success?
Finding and bringing on employees with an outstanding work ethic, problem solving skills, and motivation. Employees that are shown respect and appreciation will give the same in return.
How has the client experience changed?
An example that comes quickly to me is when we used to have one freight bill auditor. Now that our client base has grown, we have created an entire Audit Department which has been saving our clients money by finding discrepancies in charges that they may have normally paid. That's a great service to our clients.
What do you envision Jarrett looking like in the next 20 years?
Expanding the Jarrett campuses and bringing on more loyal workers that will invest in the future of these companies.
What lessons have you learned in the past 20 years that will impact the next 20?
Professionally & personally, you can always learn more. Don't let yourself plateau.
What advice would you give your 20-year-old self?
Don't lose your contact lenses the night you you turn 21.
What was your favorite song when you were 20?
Ex-Factor by Lauryn Hill
What job did you have when you were 20?
I was a Box Store Freight Coordinator of a whitewater supply company in Idaho.
We are grateful to have Cheryl here at Jarrett. If you are interested in being a part of our team, visit our careers page.
For more Employee Spotlights, check out our blog!